I realize 97% of anyone who is accidentally reading this has no idea what I am talking about.
I like to feed my fish live worms and there are basically two types commonly available. Blackworms and whiteworms.
Blackworms live in freshwater and you buy them in water in small portions or online in big portions. A lot of people either can't get live blackworms, never heard of them or their wife won't let them put them in their refrigerator. My wife won't either and she can probably take me in a fair fight so I don't put them there. But this is about whiteworms which live in soil and I assume are just as nutritious as blackworms. But I am guessing.
Whiteworms have one big advantage in that they can live in saltwater for hours and keep wriggling around so fish can't resist them. I feed them (and blackworms) to my fish every day and built a whiteworm feeder for my mandarin because although mandarins love whiteworms, they are not the Tuna of the sea and by the time they decide to take a bite, the worms are all eaten by every other fish.
I will get to the feeder later.
You buy a culture of whiteworms on line and from there on, they are free. My culture is still going for over five years and all you need to do is feed them every two weeks or so.
You get the culture and put them in some soil that doesn't have fertilizer, insect or weed killer and keep it wet.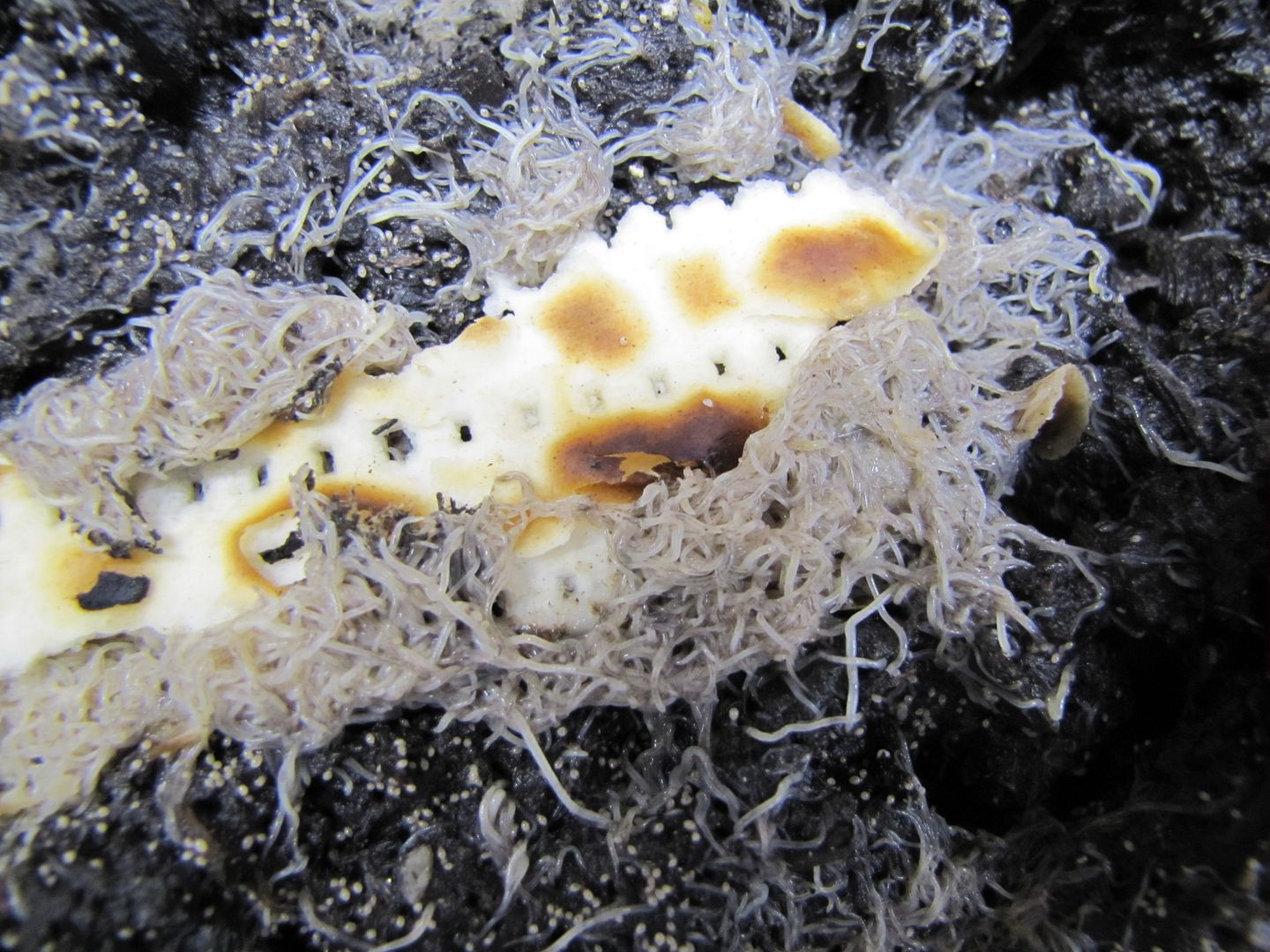 I feed them a piece of frozen bread with some plain, fully fatted yogurt. Along with the yogurt I add some Nutritional yeast but that is just dessert and they will grow without it. I use whole grain bread.
I put three pieces in my culture which is composed of a half a slice of bread. Put the yogurt side down.
In a few days the bread will form fungus. Don't worry about it as it doesn't seem to bother the worms, but I wouldn't eat it.
When the bread is really disgusting, full of mold and small, you can remove it and add a fresh slice. Feed that fungus covered mouldy one to your X, or bring it to the LFS that sold you that Ich infected tang and put it in some cheese cake.
Eventually you will get so many worms you don't know what to do with them. When my culture was young, the worms would crawl al over a ******* and I could take that out and feed the worms to my fish.
After a few years a transformation happened and my worms are much larger now. I don't know why but much fatter than those in the above picture. They also no longer like *******s. I have no idea why but maybe they saw a Starbucks commercial and their tastes changed. Now I have to scoop some out with the dirt and put them in a container. Fill with water and gently dump it out a few times. Then I suck out the worms with a baster. The worms sink and the dirt kind of floats.
After a while these very tiny, white bugs grow to cover everything. They will only stay in the damp earth so they won't climb into your bed at night and start a family between your toes. But I assume they eat a lot of the bread.
Every couple of months I like to get rid of them which is very easy.
I flood their container with cold water. The bugs float and are easily poured off. I do that four or five times until I don't see any more bugs. Then I put the dirt and worms in a net and let it drain until it stops dripping. Put it back in the container and you are good to go.
Here is a video of my mandarin in his feeder which is designed so that larger fish can't get in to eat the worms.
https://www.youtube.com/watch?v=Q2r8D1T4dCw