Greetings from CT!
I wanted to reach out to my NYC reefing brothers and sisters to formally invite you all to come down to the 6th annual Frag Farmer's Market at my school in CT.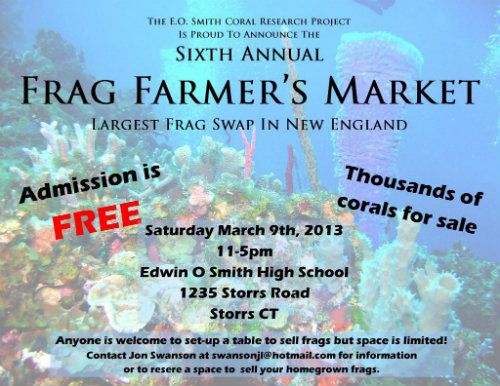 I know many of you have come for for previous ones and it continues to get bigger each year. I decided to add another room this year to make room for the increased demand for selling spaces (which means more corals!). I have pretty much all of the usual suspects and a few new names that will draw some interest. I will be updating my school project page (
www.eosmithcoralproject.org
) with the new info as it comes in. I do still have plenty of spaces left if anyone wants to come down and set-up a tank, but let me know because it is filling up quicker than in past years. I am really hoping to get more hobbyists to set-up, as that was really the intention of the FFM at its roots. As usual, admission is free, so come on down, check out the biggest frag swap in the northeast and leave with some great stuff. When you come down, make sure to stop in and introduce yourself to me so I can thank you for coming down.
If you have any questions about the event, just post it up, or email me and I'll do what I can to get you the info!
Thanks-
Jon