RyanGrieders 29g Bio-Cube Finally Back Up And Running! Sit Back And Enjoy!
ive been through alot of tanks in the past, but finally decided to set up my bio-cube again.
its a fun tank, simple, and always turns out great. i had this tank running for about a half year...then broke it down sadly due to not having enough time for it.
so about a week ago i realized, well school is out, im still looking for a job and only work part time, screw it why not set her back up! previously when i had it set up it was just a stock biocube sitting on my dresser. this time i decided to upgrade it a tad. i did a few mods to it, and still planning on doing more to it.
so far...
i changed the bulbs to the new coralife bulbs. i know everyone thinks coralife is just a cheap brand, but ill tell you what...the new bulbs they have out are AWESOME...
IF
you like purple/blue instead of actinic blue. the 10k's are pretty much the same, but the actinics are great. im running a 460actinic, and a 460actinic/10k 50/50 power compact bulb.
I also took out the 3 stock small LED's that are crap and installed a 3 3-watt leds. the two outside LEDs are super blue actinic's and the middle LED is a purple/uv LED. the turn out was GREAT!
i changed the little fan they have in it into 2 larger fans
i got rid of my little oceanic biocube skimmer into the aquaticlife skimmer.
took all the stock bio-balls out and put in 15 carbon, 15 phosphate, 15 sponge, and 15 nitrate bioballs. they are those bio-balls with the media inside the bio-balls. i also put in ROWA-phos bag, chemi pure, and purigen. on top of all of that is a little thin sponge so it wont hold too much garbage and start a nitrate issue like i have in the past.
i got the small 5w Oceanic UV sterlizer.
I picked up that Hydor snap on spinning powerhead that goes over the return line, but did not hook it up yet.
picked up the smaller nano vertec powerhead, but also did not hook that up yet, trying to learn it still.
and last but not least...even though its not an upgrade, but i got the real stand made for it. alot better then a dresser! lol
my future plans are to cut out the center bacl wall and put acrylic over it and a small LED light and make a small fuge on the bottom, but been too lazy and figured i can add that later on.
my BIG future plan is something i posted on another thread about drilling a bio-cube and putting a full sump under it, but i think im going to look for another cheap used bio-cube and do that will...not this one.
TANK STATUS:
only 2 week in. took water, sand, and media from my other tank and set this one up quickly. about a week ago i started to add most the corals and fish... everything looking happy so far!
Water Par:
temp- 79.1
salinity- .25
ammonia- 0
ph- 8.4
nitrite- 0
nitrate- 0 -.05
phosphate .2-.5
calcium- 450
magnesium-1350
Live Stock:
30lbs caribsea super natural live black sand
42lbs of Tonda, Fugi, and Kupang Rock.
Fishies:
2 mated false clowns
royal gramma
yellow brutala goby
mandarin ( ps i know the whole story on mandarins but dont worry about this one. i know this tank is only been set up for a week but this mandarin i have had for 4 YEARS now and has been eating frozen food for 3 years now. he is out of every fish my hardiest fish i have and my true champ and buddy.
Corals:
rose bubble tip anemone (that split from my other one i have)
condy anemone (that i've had for 3 years)
blue mushrooms
red mushrooms
blue,red,green,yellow zoas. (dont know the special names because i dont think there anything special lol)
green/brown poylps ( there in a big circle that ive always loved even though there not that pretty)
silver xenia
waving hands
blue anthellia
green star's
orange balanphyillia
orange acropora
superman monti
and something else that i dont know what kind it is yet. in the pic its the green stony branch in the led pics. just got it today from ocean gallery.
MORE TO COME!
so, finally, here are a few pics i just took of it with my HTC incredible phone early in the morning so nothing is really open yet, i will post pics and a short video soon once everything opens.
KEEP IN MIND
this tank was only set up a week ago so nothing is really finished or final in it. i took water for my other tank, and filled this tank with it, let it run for a week to make sure nothing spiked, then adding some coral and fish. everything is doing GREAT!
enjoy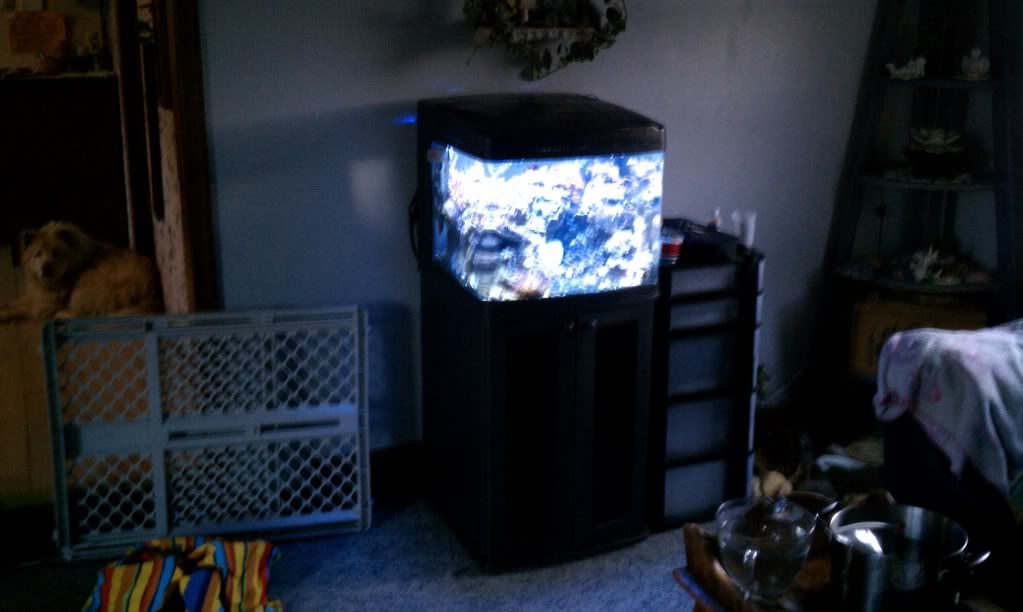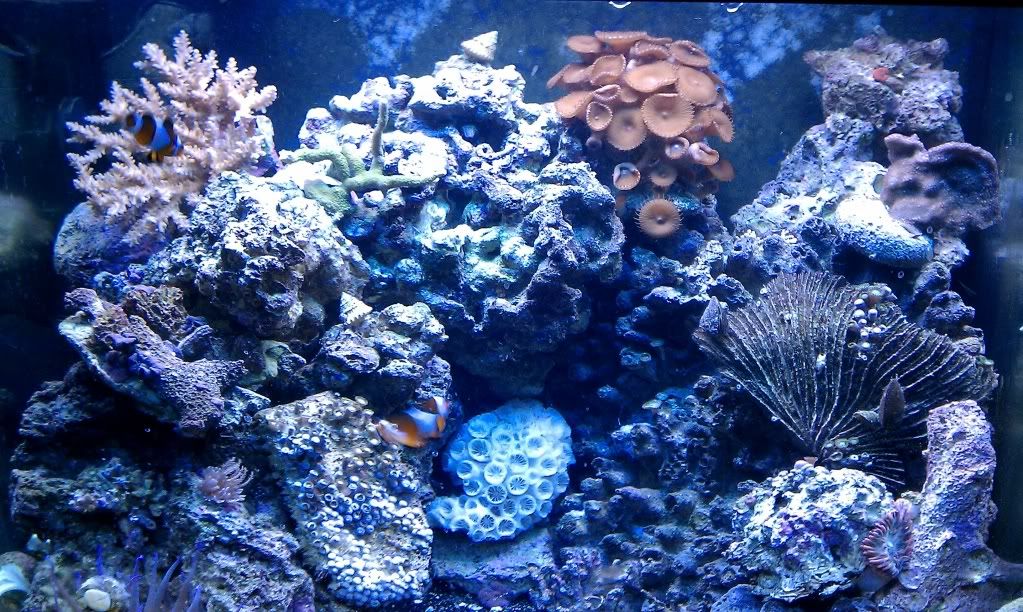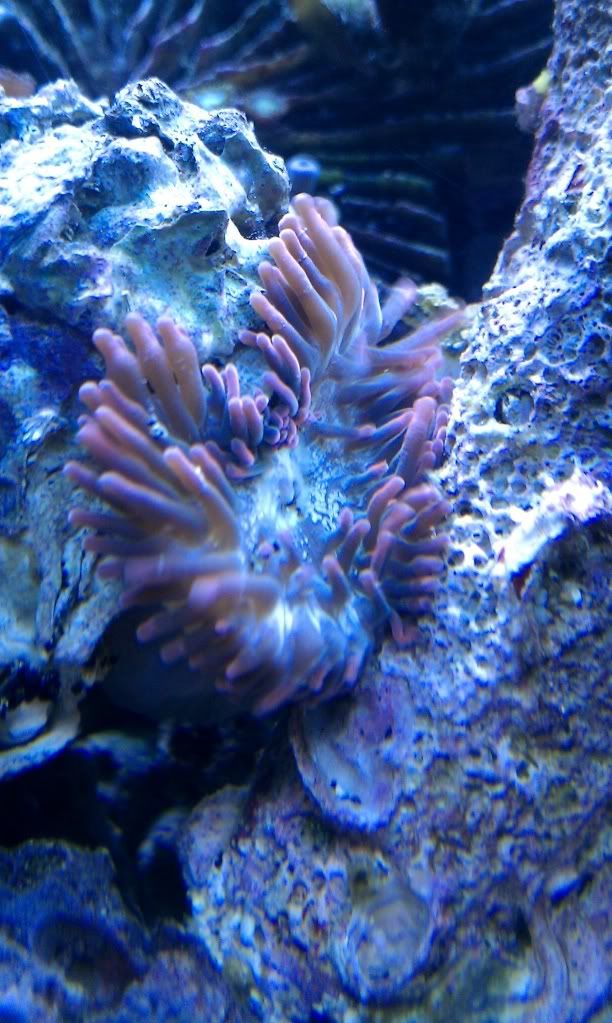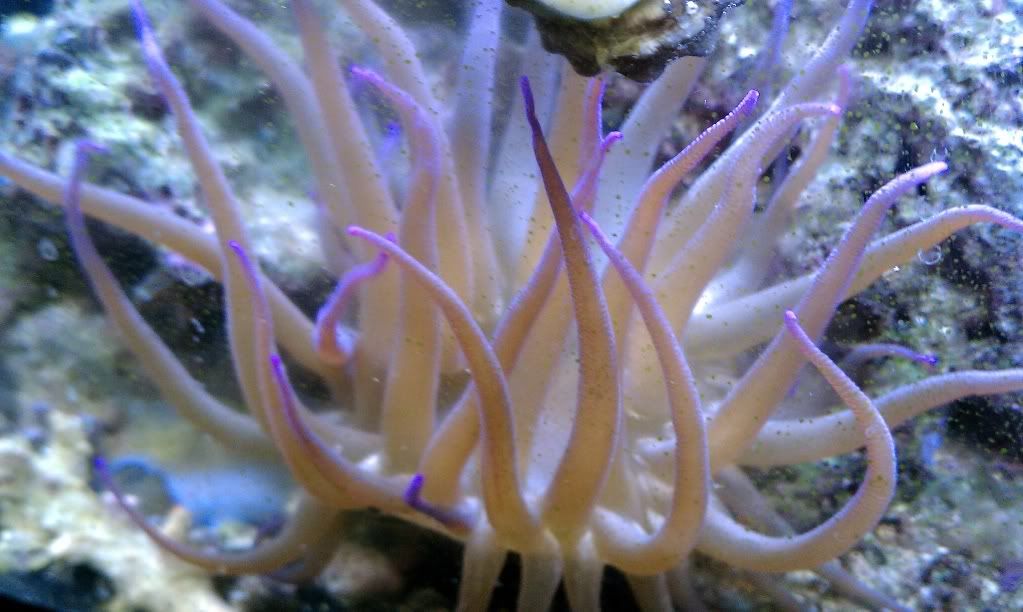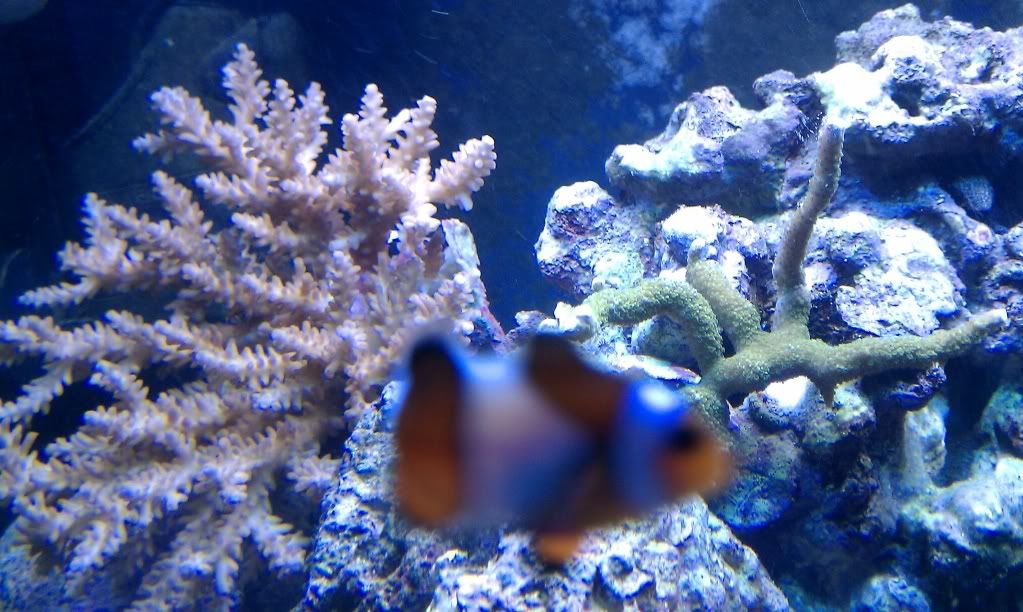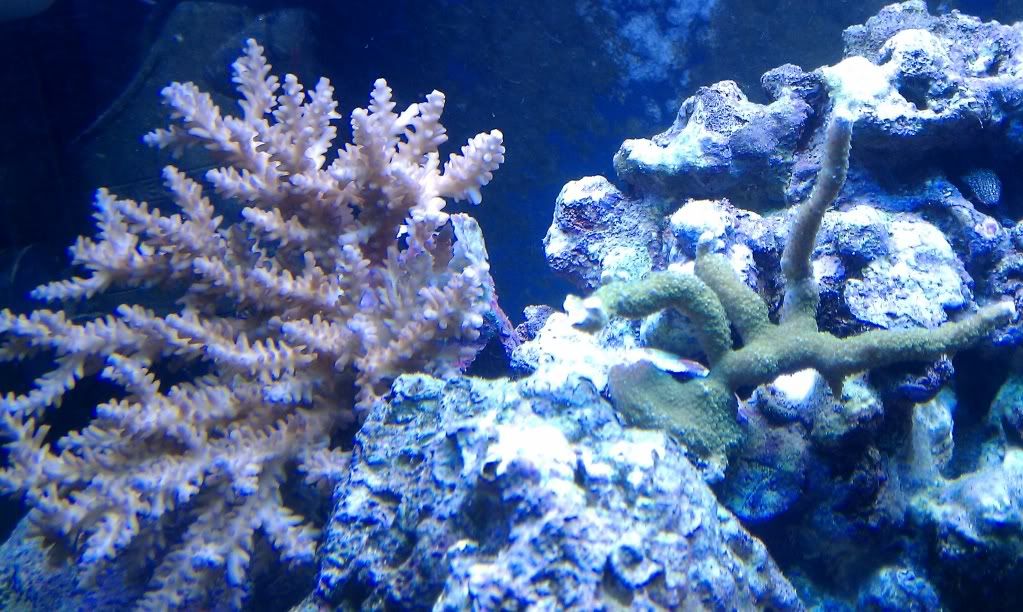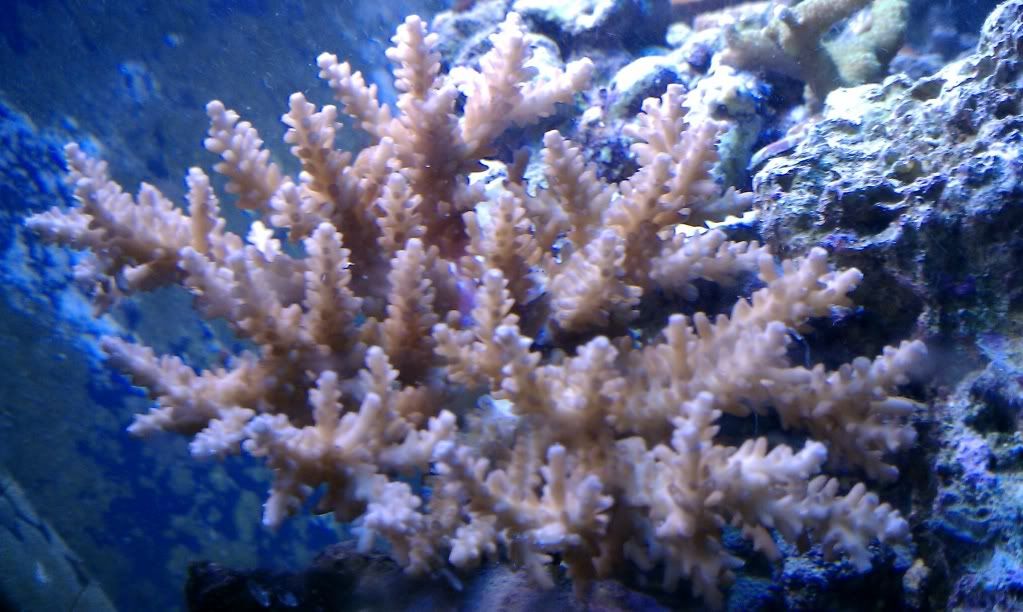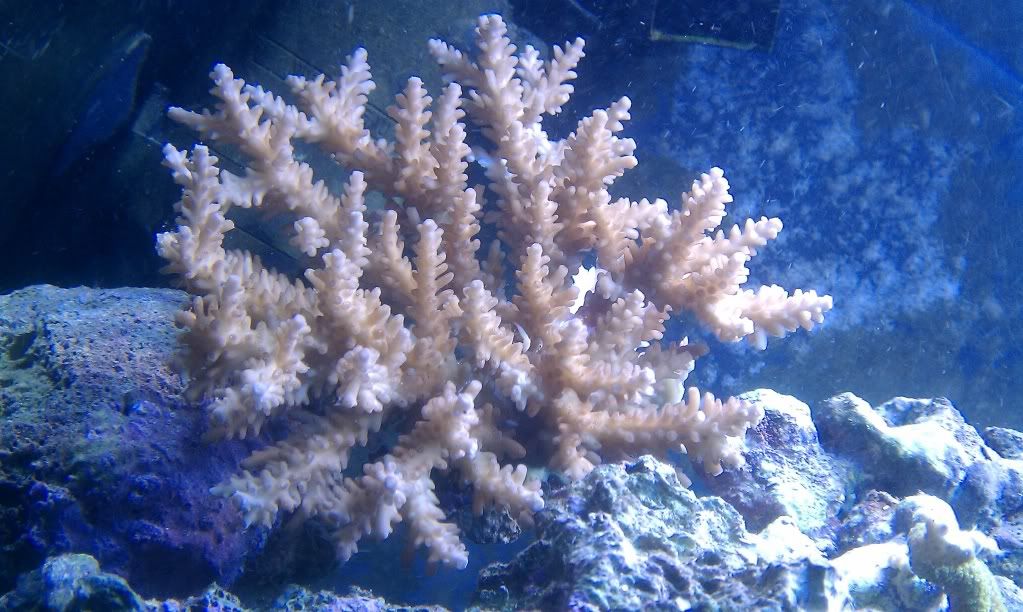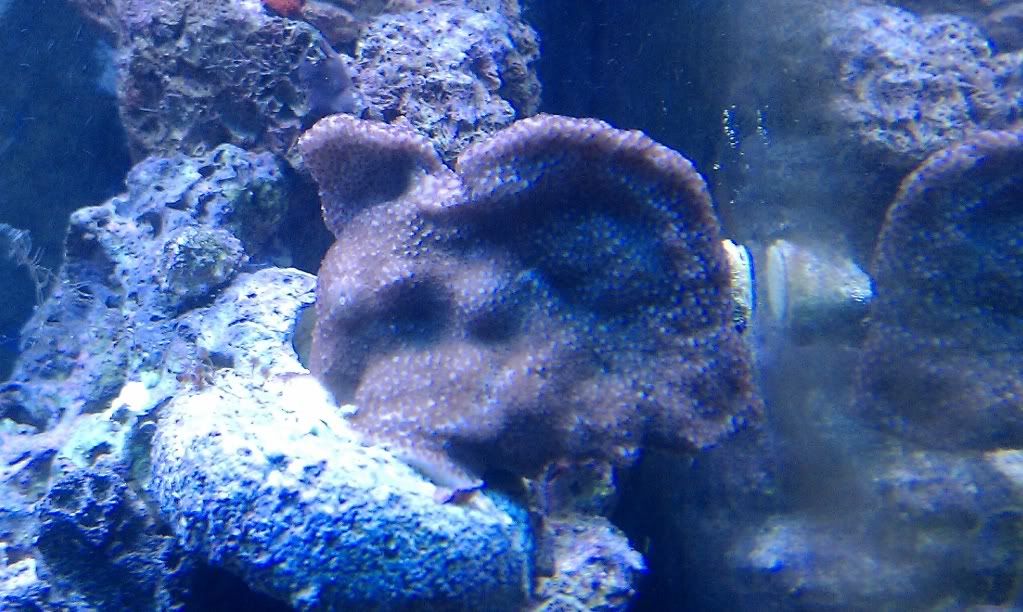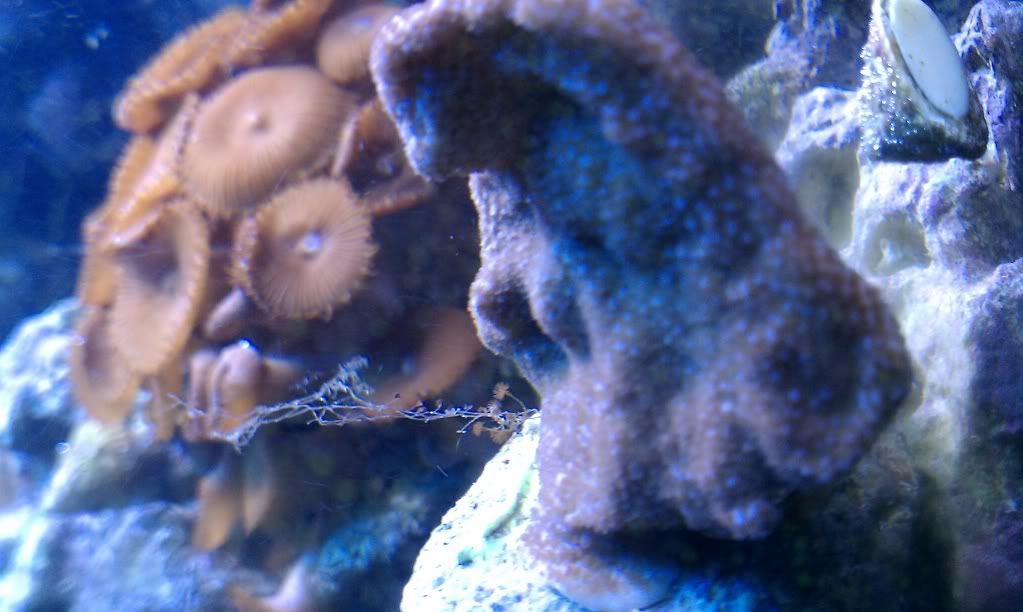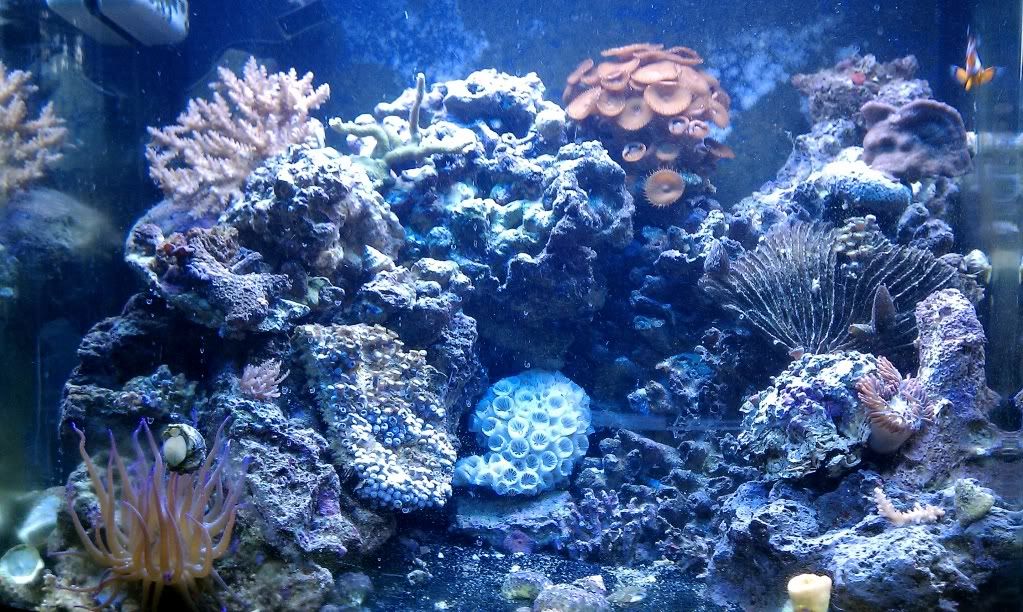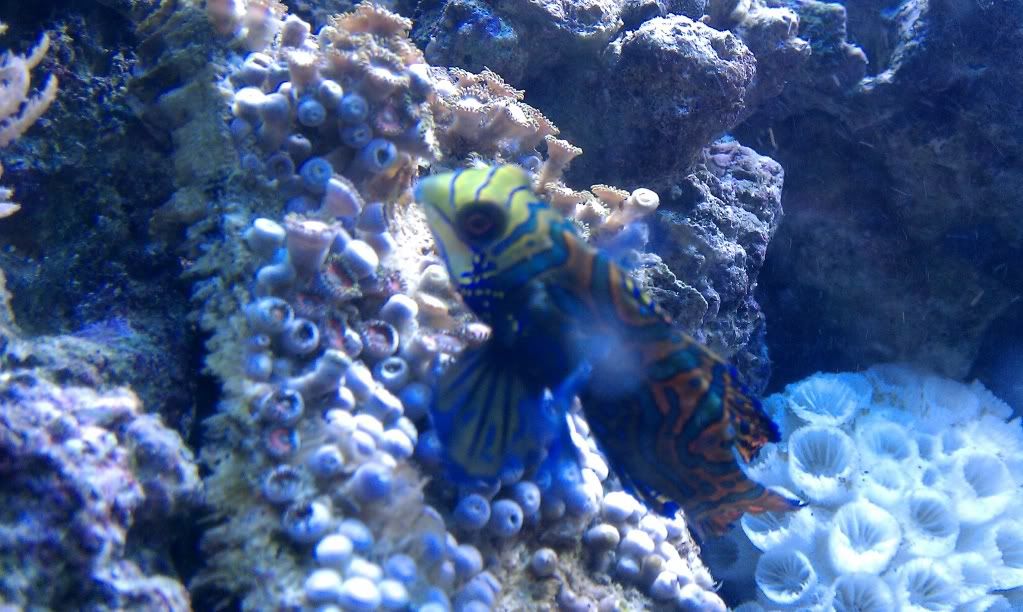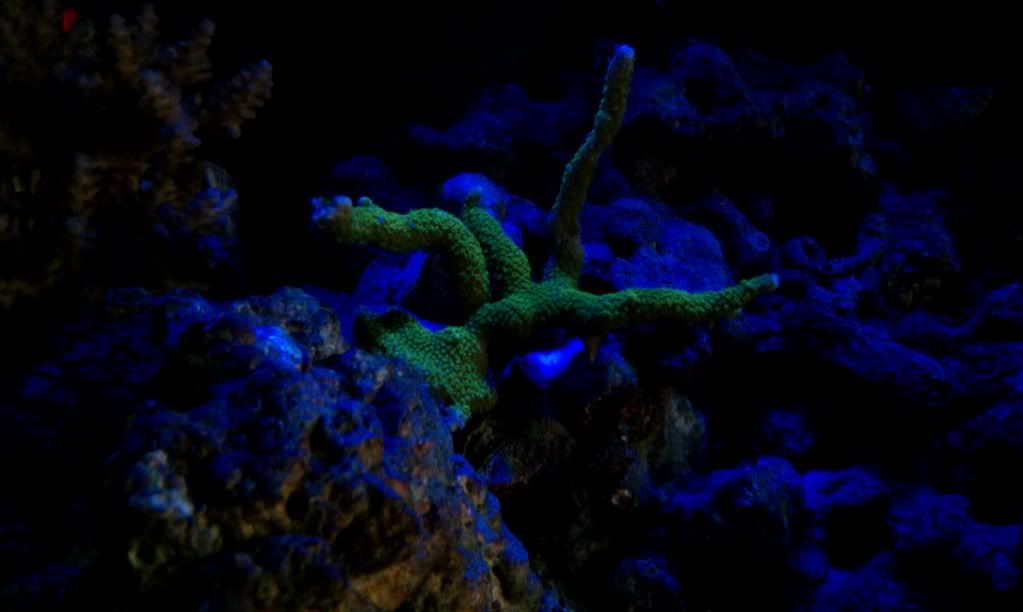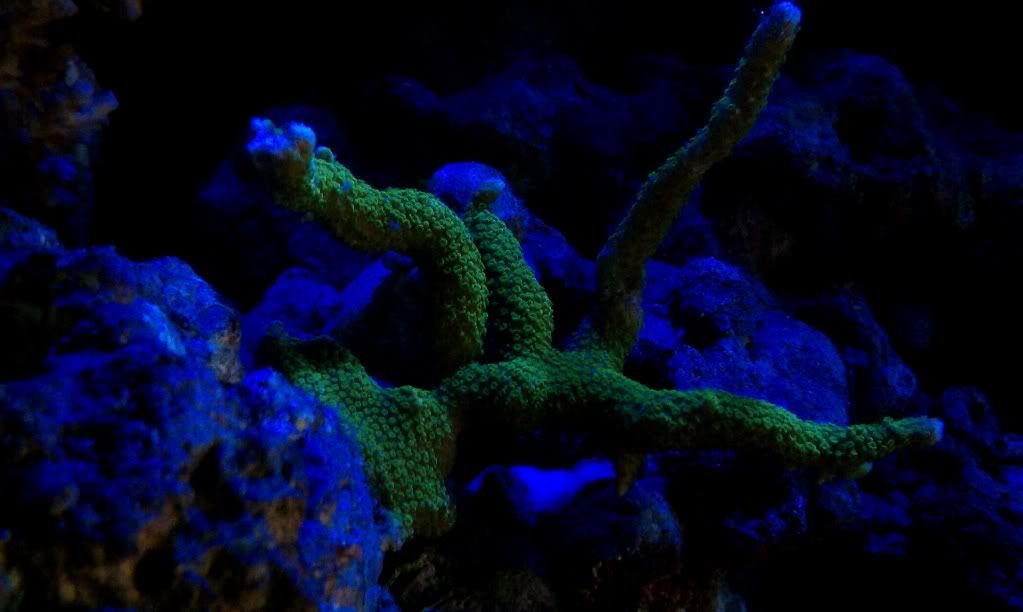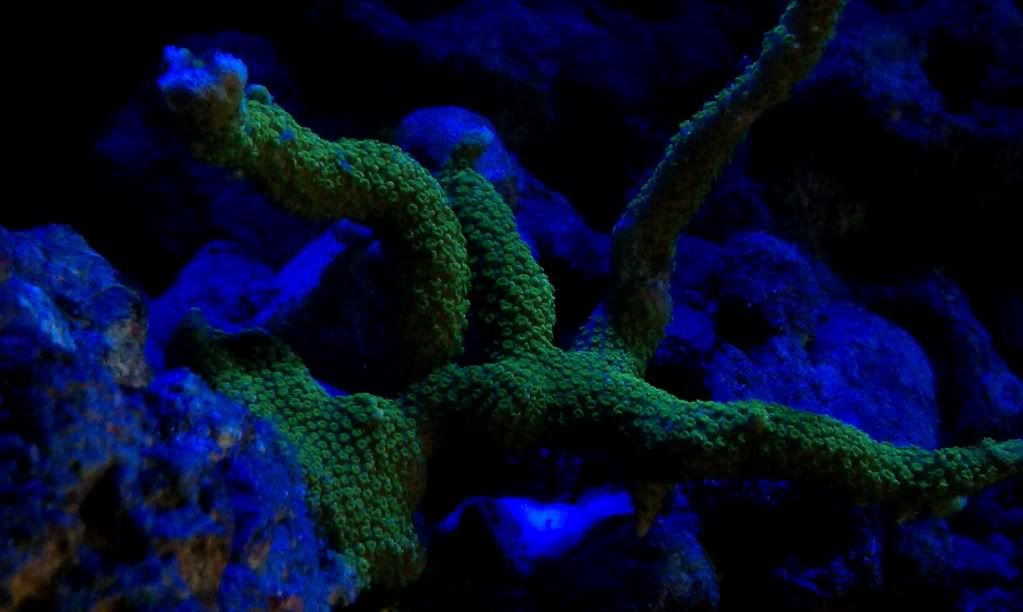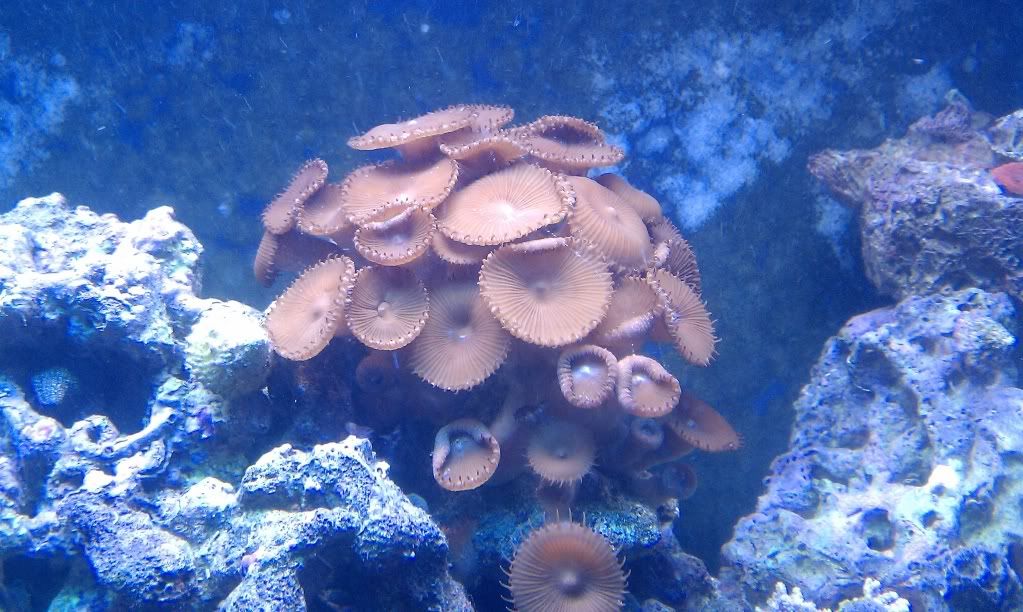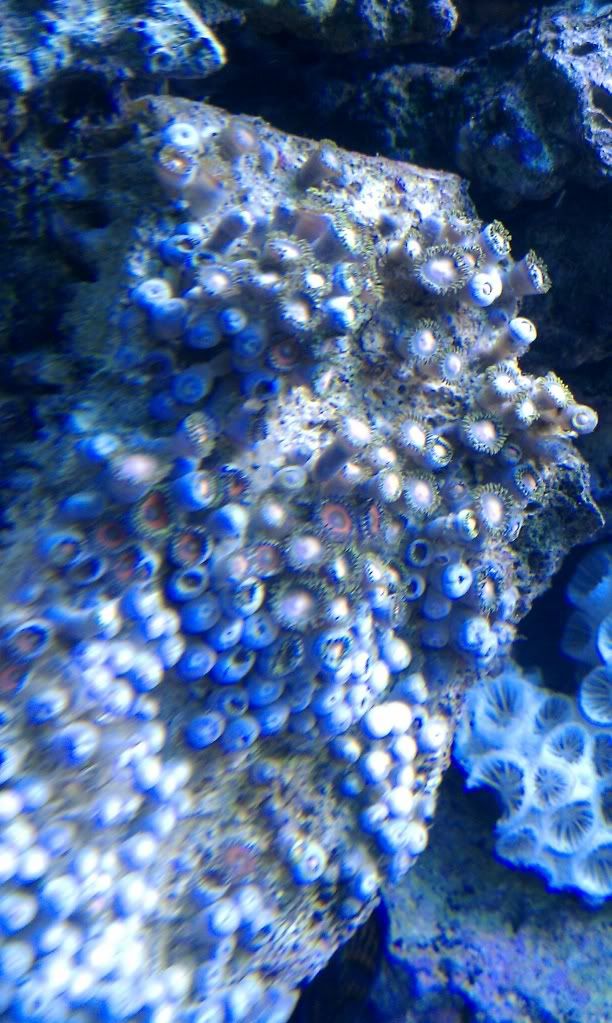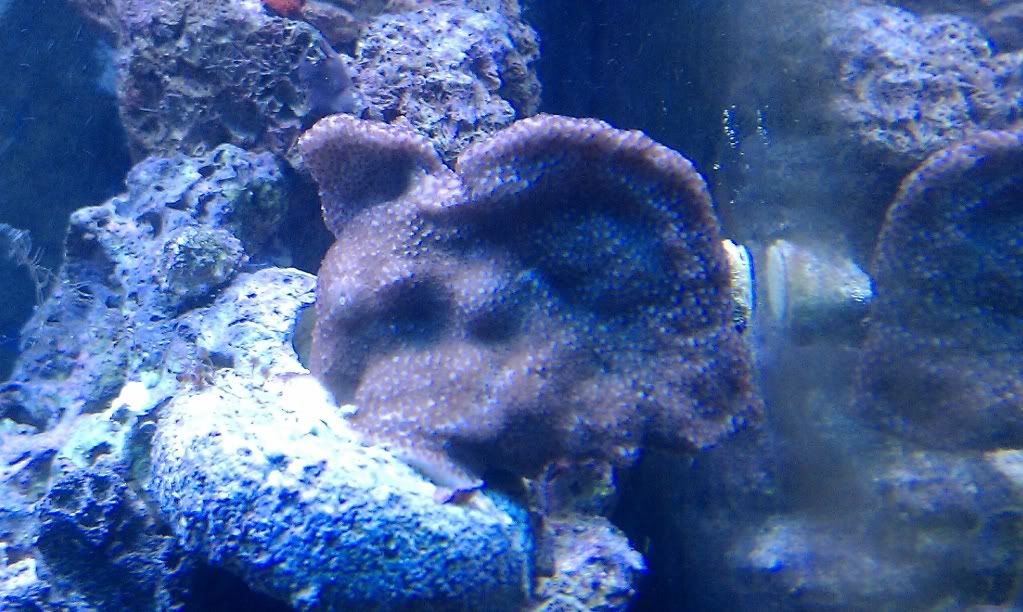 sorry for nothing really open and looks kinda crudy so far, like i said this was around 9 in the morning so no one was really open... also im going to get my buddies 12mp camera camera to take some pics! like i said these were all off a phone...
MORE TO COME ONCE ITS MID-DAY AND I'M HOME TO TAKE PICS!!!