well, as i mentioned before on my biocube thread, i wanted to set up a new tank since i got rid of my 72bow and i know a few people said they were excited to see how this turns out since i have been giving hints and peaks of it. Well yesterday was finally the day to start filling!
Tank:
i got the tank maybe 3-4 months ago from TIM on here. its a 46gallon bow front with stand and canopy made by Pro Clear Aquatics. TIM cut the back of the tank and made overflows for me. i ended up putting a strainer on the left side, and a dual loc-line return pipe for the return line. ended up looking great. here is a stock pic of the tank.
Filtration:
I knew my filtration Set-Up was going to be a pain in the neck because the dementions of the stand are only 9 inches wide. So, i had to get a custom tank made for my stand. I ended up building everything from scratch. From Custom Aquatic Acrylics, they made me a acrylic tank with the measurments of 25x9x17. Now i knew i would not be able to fit much in this, so i figured i would have to primairly consist my filtration of a great skimmer. so i ended up picking my Bubble~Magus Nac 7. This skimmer is amazing. i had it for awhile on my olf tank and this was the best skimmer i have ever purchased.
i ended up making a really simple sump layout. it consists of a filter sock assembly kit i silicones and drilled right into the acrylic sump, then i put a filter sock in place. Under the filter sock i got a pump going into my PM huge reactor filled with carbon, chemi-pure, phos-ban and a few pads. Followed by a baffle is my Nac 7 and the return line of the PM Reactor, a Baffle, and my mag drive 5.
here is the thread to building my sump.
the only downfall was that the skimmer BARELY fit into sump because the pump on the skimmer was only 1/4 inches away from the wall on the sump.
i mentioned this on another thread i made recently located here.
i ended up choosing the hard way, but worked great i think. i drilled a hole on the bottom front side of the sump where the inlet of the pump to the skimmer is and siliconed a cylinder shaped contrainer in its spot so the wall is extended out an additional 3 inches so the skimmer pump has plenty of room to suck water in freely. i think it will work much better this way even though it looks a little rigged lol.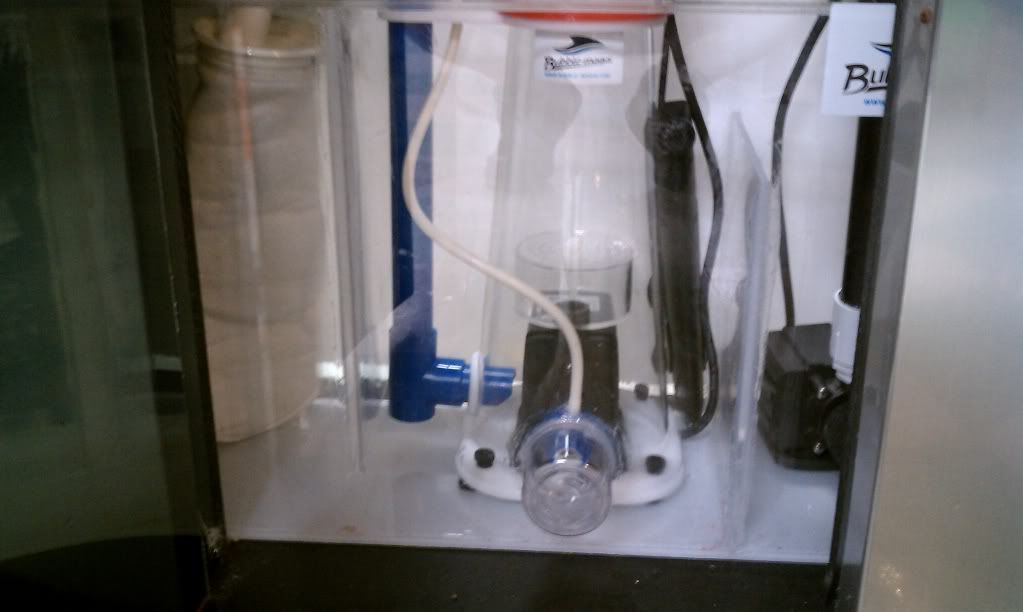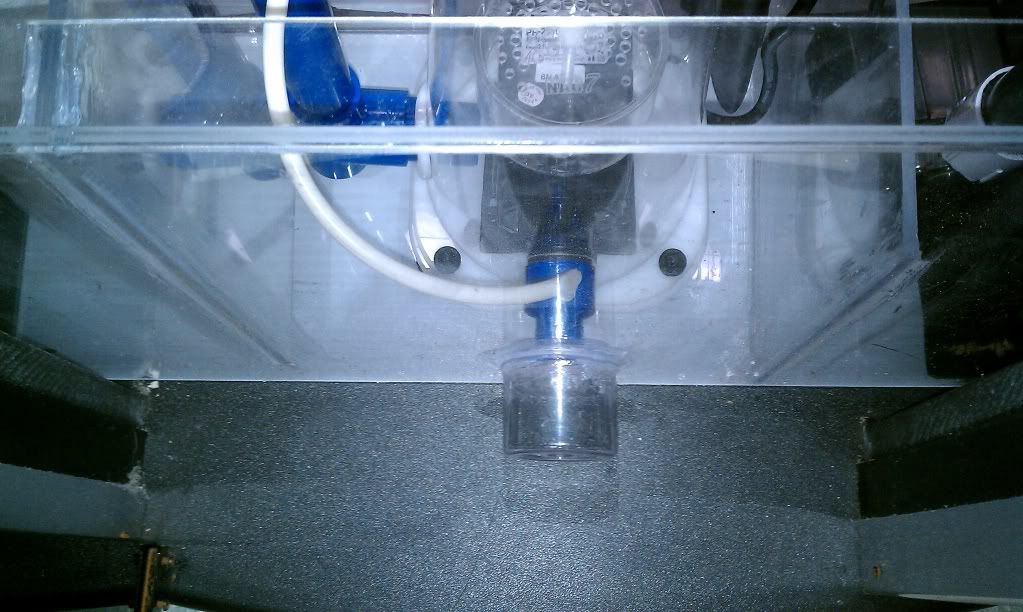 here is the PM reactor i have hooked up to it as well.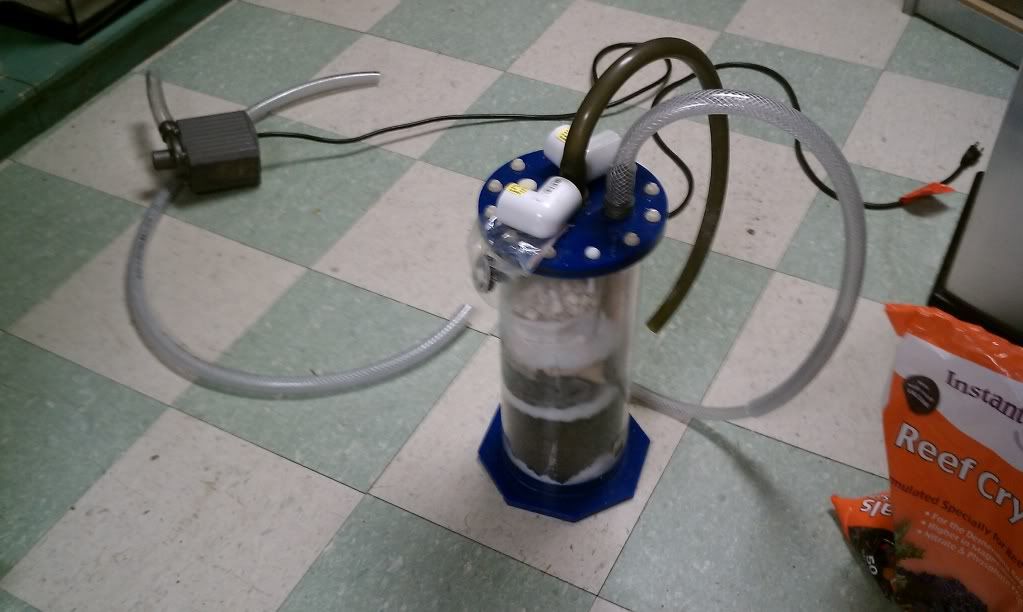 Light Fixture and Canopy:
For my light fixture i think i did a pretty good job. i ended up picking a 4 bulb t-5 fixture with 1 single 250w metal halide. its my first metal halide fixture. kinda excited. i changed out the metal halide bulb to a phenoix 14k, and a back up 20k. the t-5 bulbs i changed and put a fugi pink, ATI blue Plus, Geissman powerchrome actinic, and a coralife 420 Purple actinic. The combo looks awesome because im more of the purple tint fan rather then blue. perfect combo i think. the fixture also has 8 2-watt leds. i felt that was not enough, so i ended up picking up a IceCap 36Inch Actinic Led Strip and mounted it right to the fixture. Looks much better now, but i think im going to pick up another one.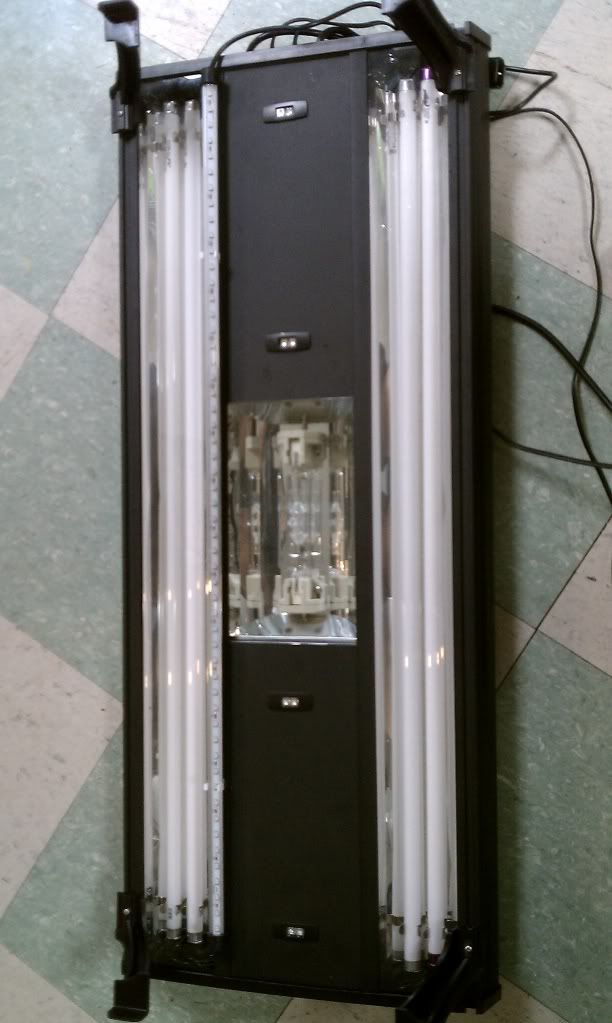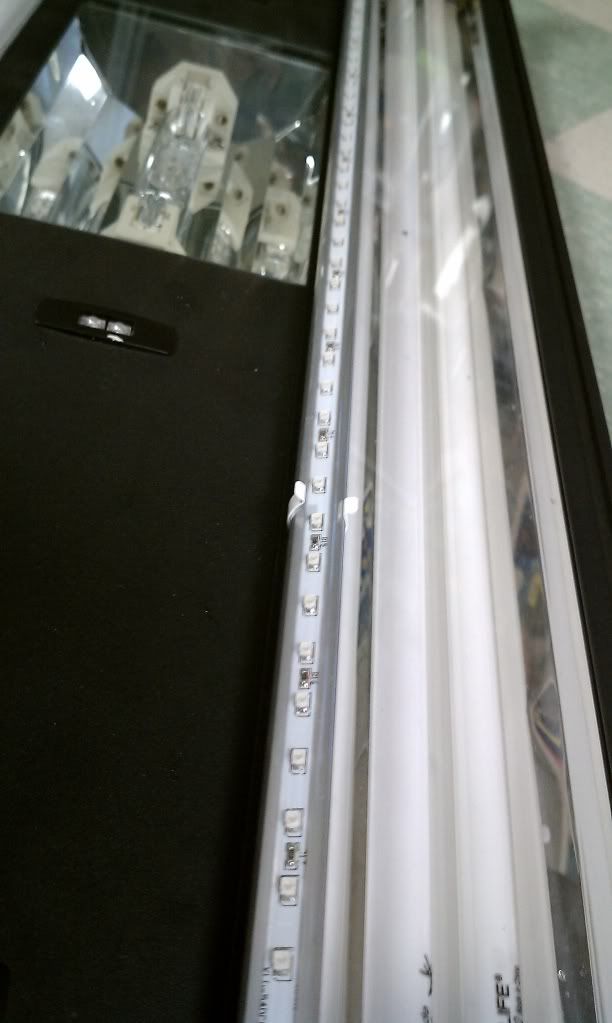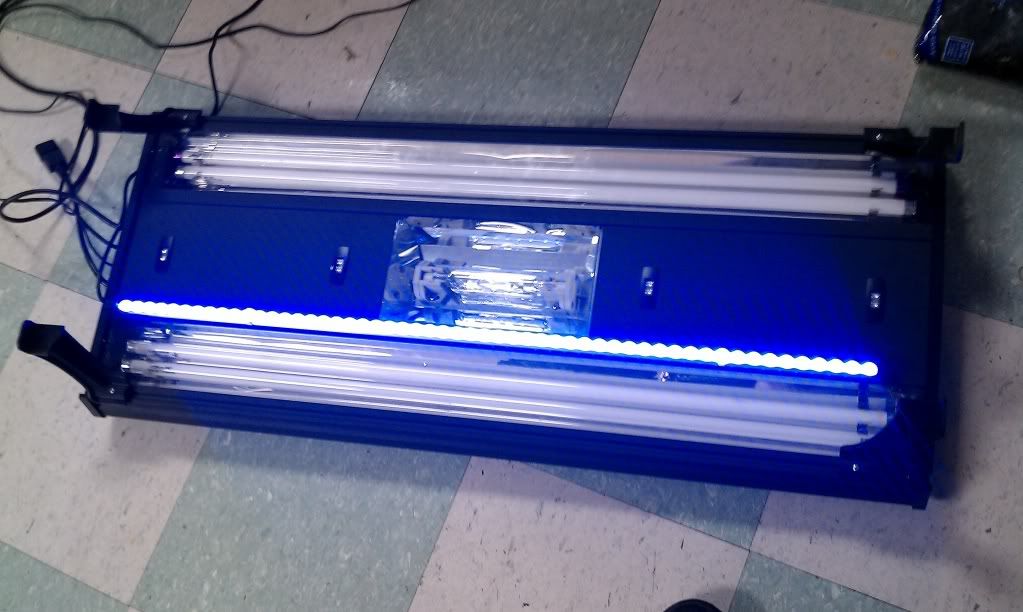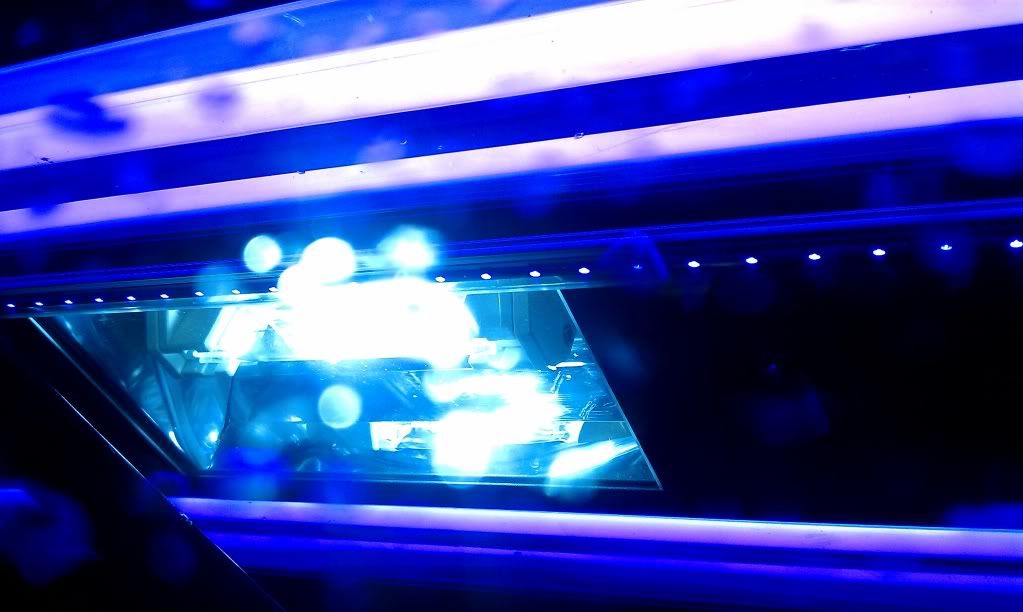 the canopy was a big issue. seeing this fixture was so large and barely fit on top of the tank, i ended up having to hack it up. i had to cut the side of the canopy to reach the switches, and cut the entire back of the canopy and have the light stick out the back a bit. i also cut the top out and put 3 4-inch holes where the fans are located on the fixture. even though it looks a little rigged i dont care, it worked.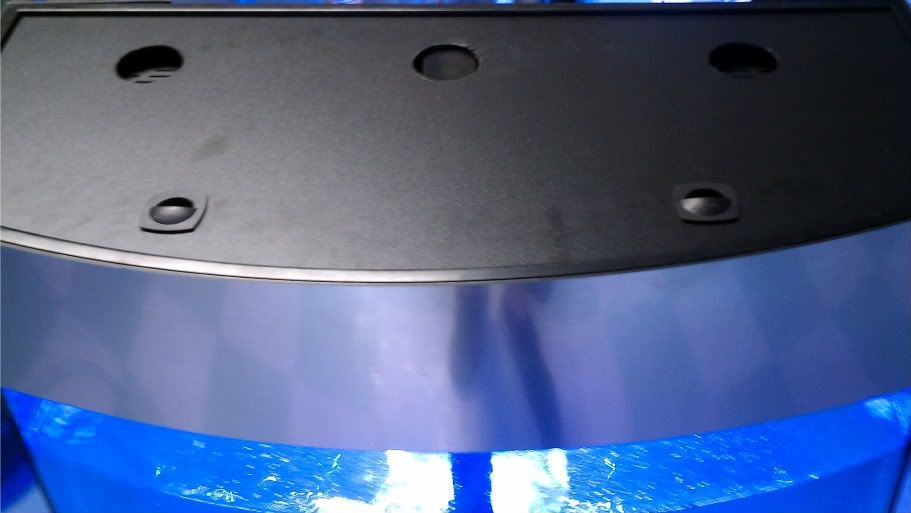 Finished Tank Filling up:
yesterday i finally started filling the tank. i did not make enough r/o water though so it did not get completely filled, but will finish filling today. i ended up picking black sand because all my tank i used black sand and always had great luck with it. here are a few pics so far...
my piping set up...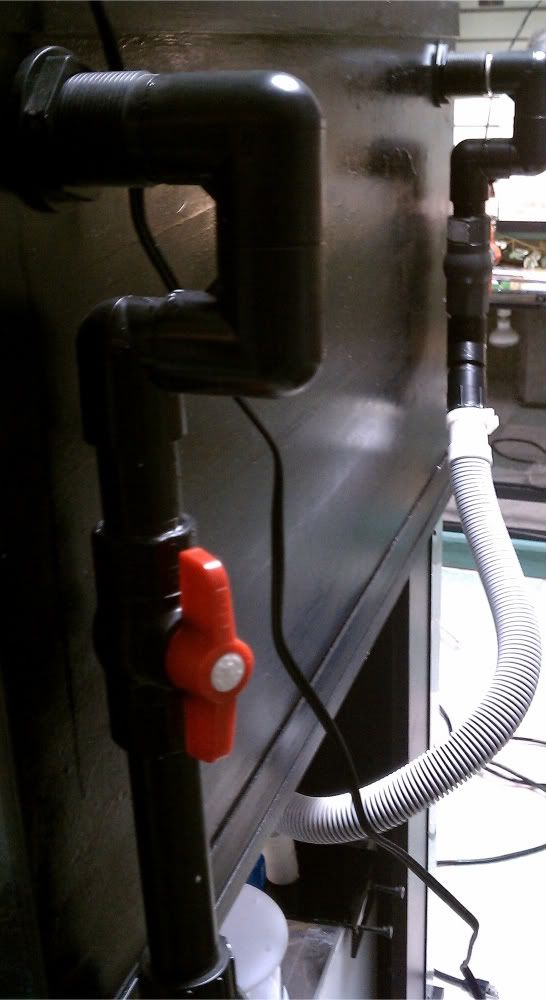 Just t-5's...
Just metal Halide... (ignore the big shadow in the middle of the tank, its only because its not filled all the way)
Every Light Turned On, Finished Set up...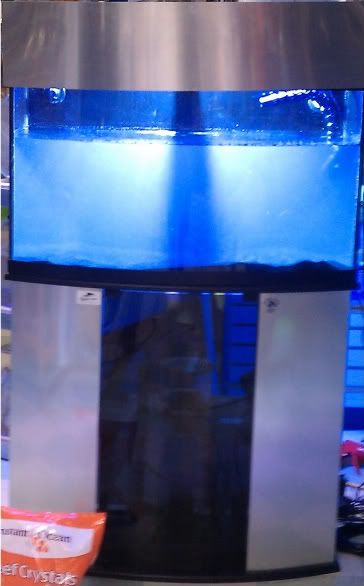 im going to finish setting it up today and will post some more finished pictures up later. let me know what you guys think! all comments will be much appreciated!